Pulled Duck in Brioche Buns with Spicy Slaw & Duck Fat
Pulled Duck in Brioche Buns with Spicy Slaw & Duck Fat
Cook Time
25 min
HOW TO:
Heat the duck confit according to pack instructions. Remove the meat and crispy skin from the bones discarding any extra fat. Shred the meat with two forks and cut the skin into pieces. Toast the brioche buns and spread the buns with a little plum sauce. Add a handful of rocket followed by the duck. Top with a spoonful of coleslaw and avocado slices and serve with the duck fat fries on the side.
Gently fry the shallot with the duck fat in a small pot until softened then add the remaining ingredients. Bring to a boil then reduce the heat and simmer for 5-7 minutes stirring regularly until the fruit has broken down and become a thick sauce. When cold, remove the cinnamon stick and star anise, transfer to a screw topped jar and store in the fridge. This will keep for 2-3 weeks when refrigerated.
Coleslaw
Put the cabbage, carrot, onion and chilli in a large bowl. Whisk together the mayonnaise, lemon juice and sugar and pour over the vegetables. Season well with salt and black pepper and mix well. Cover and refrigerate for an hour to allow the cabbage to soften a little and the flavours to develop.
Fries
Cut the potatoes into ½ cm sticks. Place in large saucepan and cover with cold water. Bring to a boil and cook 3 minutes; drain and shake dry. Place fries in large bowl and toss with the duck fat and salt. Transfer to a baking sheet and cook for 20 minutes, turn and continue baking until brown and crispy, about 15 minutes. Toss fries with a little extra salt and serve immediately.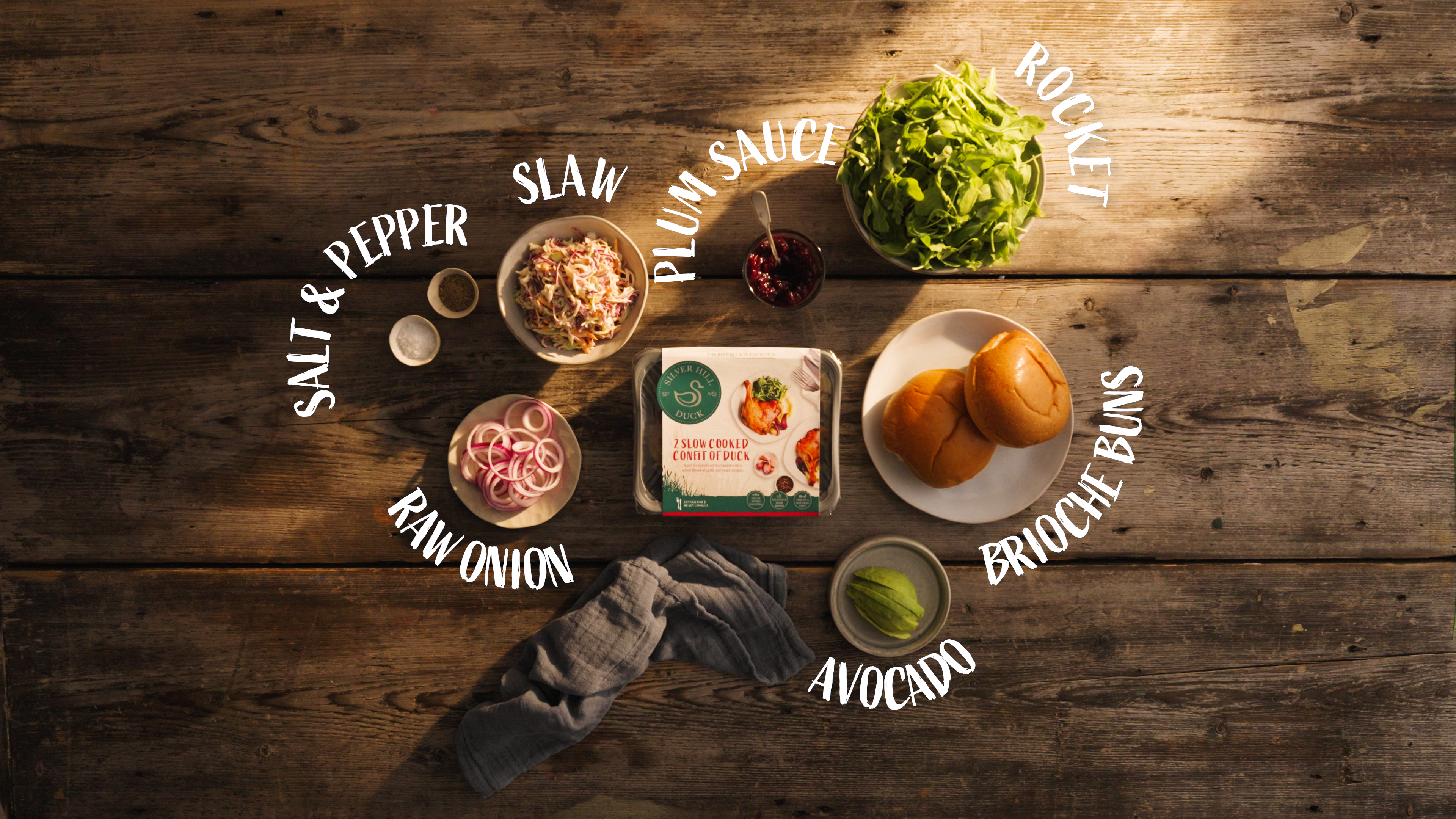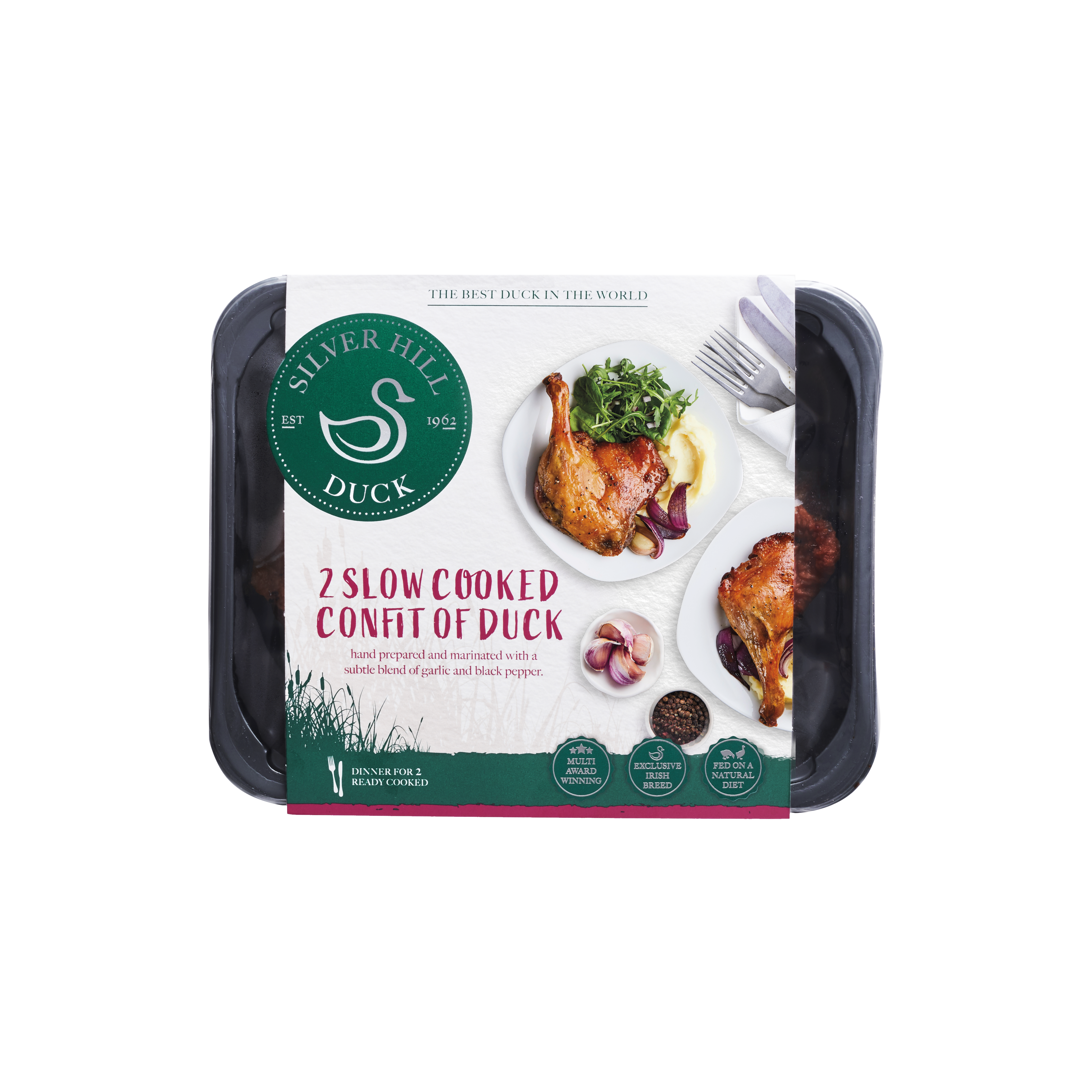 WHAT YOU NEED:
1 pack of Silver Hill Duck Confit
Brioche burger buns x 2
20g Rocket
1 red onion, sliced
1 avocado, sliced
Plum sauce
Homemade coleslaw
Duck fat fries
Plum sauce
1 shallot, finely chopped
1 tablespoon of duck fat or oil
250g plums, halved, stoned and cut into small pieces
50g demerara sugar
1 star anise
½ cinnamon stick
50ml red wine vinegar
100ml water
Coleslaw
¼ head of red cabbage, thinly sliced
¼ head of white cabbage, thinly sliced
2 carrots, peeled and roughly grated
2 scallions, trimmed and sliced
1 small red chilli, finely chopped
300g mayonnaise
1 tablespoon of brown sugar
2 tablespoons of white wine vinegar
Salt & freshly ground black pepper
Fries
2 large baking potatoes (about 500g)
3 tablespoons duck fat
½ teaspoon salt
Back to Recipes
Some of our products
Over 58 years of experience and continued development has yielded the optimum bird for flavour, texture and consistency.