Duck Tacos
Cook Time
30 min
HOW TO:
Heat the duck according to the pack instructions. In a pan, fry the shallot and garlic. Add the cumin and chilli powder and heat for a minute before adding the orange and lime juice and sauce from the sachet. Cook for another minute and set aside.
Combine all the salsa ingredients together, cover and refrigerate until needed. Combine the crème fraiche and sriracha together and set aside.
Once the duck is ready, remove it from the oven and use two forks to pull the meat off the bone and shred it. Add to the sauce and mix through. When everything is nearly ready, warm the tacos in the oven or microwave. Serve the shredded duck mixture with the warmed tacos. Dress with the avocado and salsa, drizzle with the spicy crème fraîche and scatter over the sliced spring onions.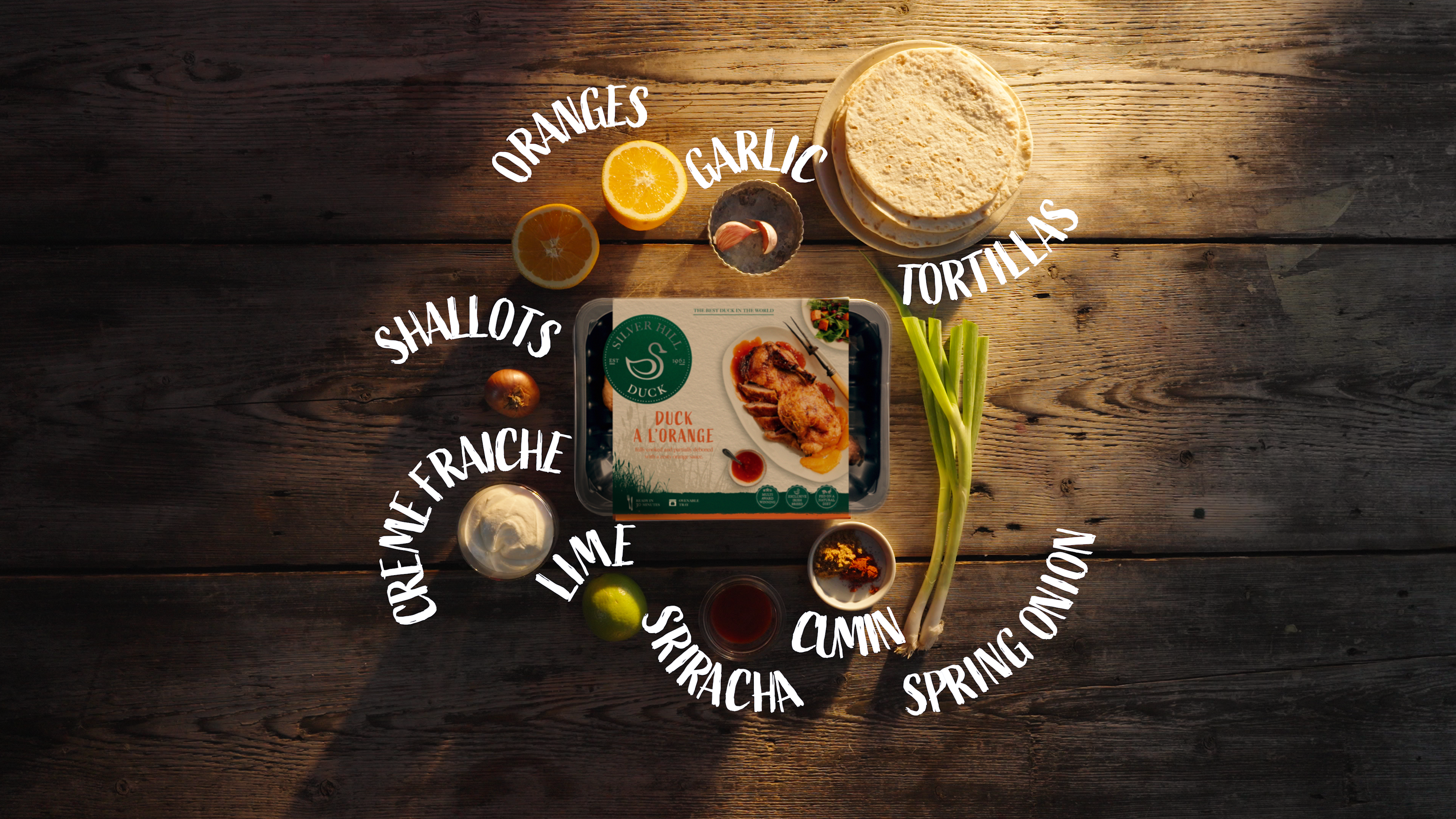 WHAT YOU NEED:
1 Silver Hill Duck A L'Orange
Sauce
1 shallot, finely chopped
2 cloves of garlic, finely chopped
½ teaspoon of ground cumin
¼ teaspoon of chilli powder
Juice of 1 orange
Juice of 1 lime
Orange sauce from accompanying sachet
Salsa
2 mangoes, peeled, pitted and chopped
1 small red onion, finely chopped
1 red chilli, finely chopped
1 tablespoon of chopped coriander
Zest and juice of 1 lime
Spicy sauce
250ml tub of crème fraiche or sour cream
1 tablespoon of Sriracha
To serve
8 small soft flour tortillas
1 avocado, sliced
2 spring onions, thinly sliced diagonally
Lime wedges
Back to Recipes
Some of our products
Over 58 years of experience and continued development has yielded the optimum bird for flavour, texture and consistency.