Duck Laksa
Cook Time
30 min
HOW TO:
Preheat heat the oven to 200°C
Score the fat of the duck and season with salt and pepper. Place the fillets fat side down on a COLD dry pan and turn to a medium heat. As the pan heats up the fat will start to render from the fillets. You might need to spoon some of the fat out of the pan half way through. This will stop the duck being cooked in the fat and will ensure greater browning. Cook until the skin on the fillets is golden in colour. Turn the duck breasts over and continue to cook for another 2 minutes. Remove from the pan, place them on a roasting tray and cook in the oven for a further 8 minutes. Remove from oven and allow the fillets to rest for 10 minutes before slicing.
Place the noodles in a large heatproof bowl and cover with boiling water. Set aside for 5 minutes to soften then drain and set aside. Heat the duck fat in large pot and gently fry the garlic, chilli, ginger and lemon grass for 2 minutes before adding the Laksa paste and lime zest. Continue frying for another 2 minutes until the paste releases its aromas. Add in the coconut milk and chicken stock and bring to a simmer. Add the fish sauce and half the lime juice and stir well. Add the tenderstem broccoli and simmer for 3-4 minutes. Taste and add more lime juice if needed. Divide the noodles between the serving bowls. Ladle over the laksa mixture. Slice the duck and lay on top of the laksa. Top with carrot, mint and coriander leaves and red chilli. Serve immediately with the lime wedges and enjoy!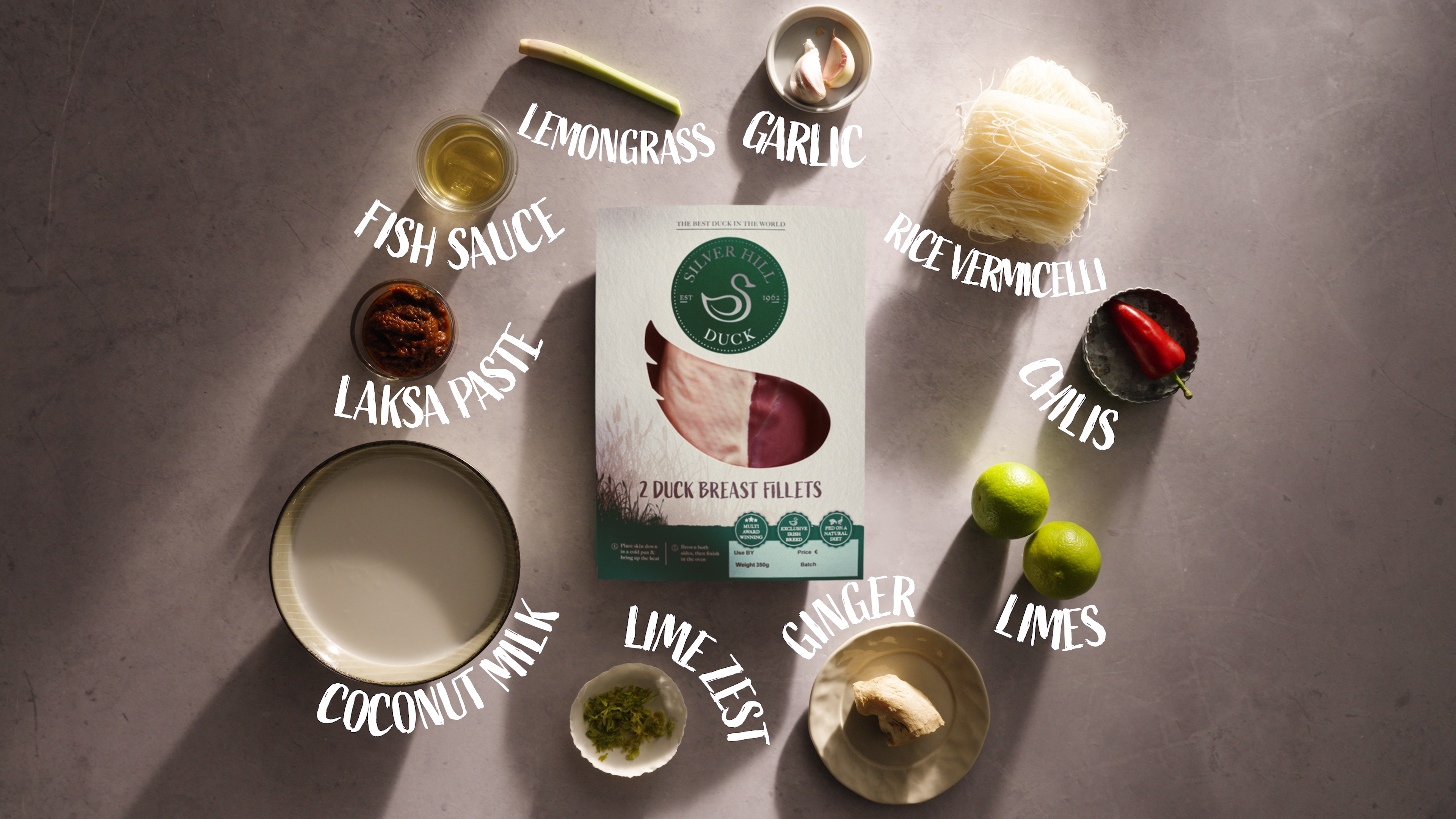 WHAT YOU NEED:
2 Silver Hill Duck Breasts
1 tablespoon of duck fat (rendered from the duck breasts)
2 cloves of garlic, finely chopped
2cm of fresh ginger, finely grated
1 stick of lemon grass, bashed
1 red chilli, finely chopped
2-4 tablespoons of Laksa paste (depending on strength)
400g can of coconut milk
500ml chicken stock
2 tablespoons of fish sauce
Zest and juice of 2 limes
200g rice vermicelli noodles
100g tenderstem broccoli
To serve – sliced red chillies, carrot julienne, fresh mint and coriander and wedges of lime
Back to Recipes
Some of our products
Over 58 years of experience and continued development has yielded the optimum bird for flavour, texture and consistency.