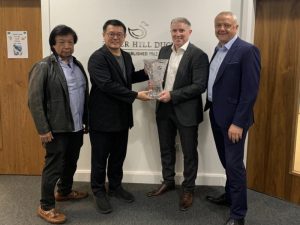 Recently we celebrated a significant milestone of one of our esteemed customers @tunglokgroup who have now sold over 500,000 Silver Hill Ducks across all of their restaurants in Singapore.
It was an honour to present founder @ Andrew Tjioe with a special piece of Galway Crystal on his visit to Silver Hill Duck to acknowledge this amazing achievement. A big thank you to our neighbours @castleleslie and Chef @aaronduffy510 who treated our visitors to an amazing Silver Hill Duck Dinner and a tour of the historic castle.
We are very proud that the world's best duck comes from our small corner of the world here in Emyvale, Co. Monaghan.