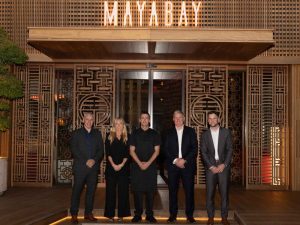 Our Managing Director Micheál Briody and Head of Sales Barry Cullen recently travelled to the Middle East Region to meet our partners Fresh Express LLC in Dubai.
Supported by Bord Bia – Irish Food Board and hosted at the acclaimed Mayabay Dubai Restaurant, we had the pleasure of serving a delicious Silver Hill Duck tasting menu to 30 of Dubai's finest chefs. This culinary experience was masterfully crafted by the renowned Head Chef, Shane MacNeill. We extend our heartfelt gratitude to Shane, whose roots trace back to Monaghan, as we proudly presented him with a framed family history and a beautifully crafted Irish wooden Duck adorned with the Monaghan colours!
We look forward to developing close relationships and the Silver Hill brand in this exciting market with all new and existing customers. A big thank you to the Bord Bia Middle East Team and to our Bord Bia Middle East and our Marketing Fellow Jack Burke for your continuing support.