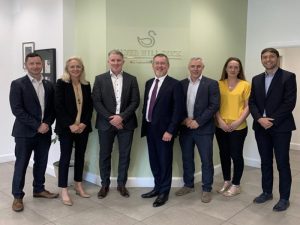 We recently welcomed @bordbia CEO Jim O'Toole and his colleagues Shane Hamill and Fiona O'Shaughnessy for a tour of our Production facilities and to share our future growth plans.
Silver Hill Duck are strong advocates of the great work Bord Bia does for Irish produce around the world and we are also proud members of @bordbia Origin Green Scheme.
The vision both Silver Hill Duck and Bord Bia have for the growth of Irish Food at home and abroad is very much shared and we look forward to working closely with Bord Bia as we expand in current and new markets around the world.